Kal Tire
Establishment and car repair at 252 Talbot Street West, Leamington, ON N8H 1P1, Canada. Here you will find detailed information about Kal Tire: address, phone, fax, opening hours, customer reviews, photos, directions and more.
Opening hours
| | |
| --- | --- |
| Monday | 08:00am — 05:00pm |
| Tuesday | 08:00am — 05:00pm |
| Wednesday | 08:00am — 05:00pm |
| Thursday | 08:00am — 05:00pm |
| Friday | 08:00am — 05:00pm |
| Saturday | 08:00am — 05:00pm |
Rating
4.2 /5
Based on 5 reviews
Photos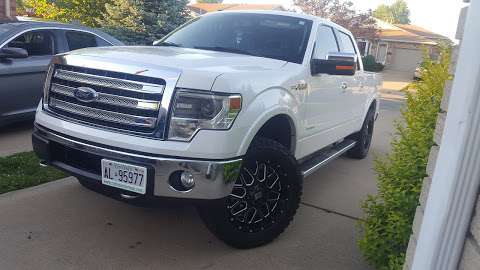 Reviews of Kal Tire
star taylor Added 2018-10-15

★ ★ ★ ★ ★

I have been dealing with kale tire for awhile they are amazing they always gives the best service they take time out to talk about your car and try and give you the best deals they can there amazing always see a smile on the workers never have I had a rude person very kind they always do what they can to give you good service and there fast my car has always in and out I don't have to wait to long keep up the good work kale tire in leamington

Mike Mike Added 2018-09-16

★ ★ ☆ ☆ ☆

They were great when installing the front two tires.
I went back for the 4 in the rear. Had an appointment at 8 am but the tires weren't going to fit properly.
They had the correct ones coming in at 1 pm. We rescheduled for 3:30 later in the day.
I called at 1 pm to see if there was any available spots before the 3:30 appointment.
They told me that there were none and that they wouldn't be able to get the tires on till the next day at 2 or 4 pm.
This would have been fine had I not had a safety inspection already scheduled for the next morning at 10 am.
This left me struggling for an hour to find a place that had the correct sized tires for the truck and that could get them installed before the end of the day.
Not very impressed with them, and will no longer have our business with a fleet of 6 vehicles and a truck.

Darren Sills Added 2018-09-04

★ ★ ★ ★ ☆

Friendly and accommodating personnel. Plus great service

Ike Braga Added 2018-08-22

★ ★ ★ ★ ★

I was visiting family in town, driving a rental with a tire that kept going low. The crew was great, fit me in as soon as possible without an appointment and had me down the road in an hour. I came back the next day for a re-torque and they were quick to do it and get me going. Being from BC and dealing locally here with Kal Tire, it is great to see the same caliber of service no matter where I go in Canada. Highly recommended for all your tire needs.

Eric Peters Added 2018-08-13

★ ★ ★ ★ ★

Needed a specialty tire for a skid steer in a hurry, they came out for a service call and replaced the tire within 2 hours. These guys are amazing, anyone needing any tire service needs to call KalTire in leamington!